We know that some pikler triangles can to be very expensive and it's always nice to find a bargain price. Luckily there are a lot of cheaper new options available for under $100 so it's well worth taking a look at those first to see if any are on sale before you buy a used pikler triangle. Click on the following link to view our favourite 3 Pikler triangle products in a review article we recently wrote.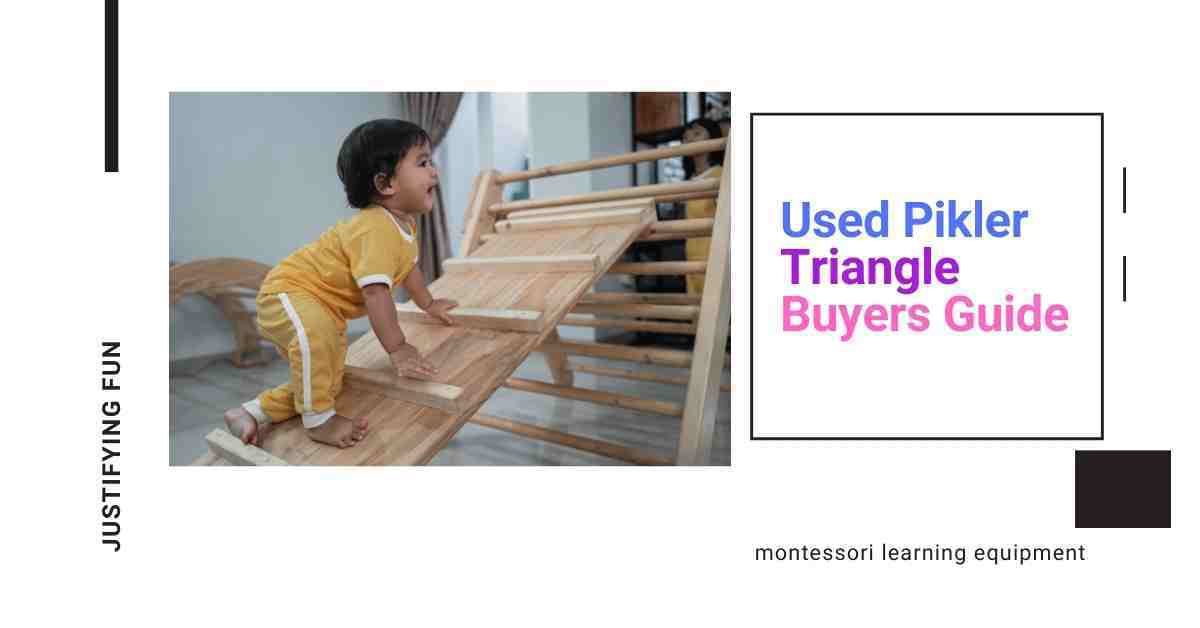 If you have taken a look at new Pikler triangles and you've decided a 2nd hand triangle is the best choice for you then follow our advice below and tick off the check list to make sure you are getting a safe high quality wooden triangle from a reputable brand.
Where to find a used pikler triangle for sale
You can find used Pikler triangles available for sale in the following places: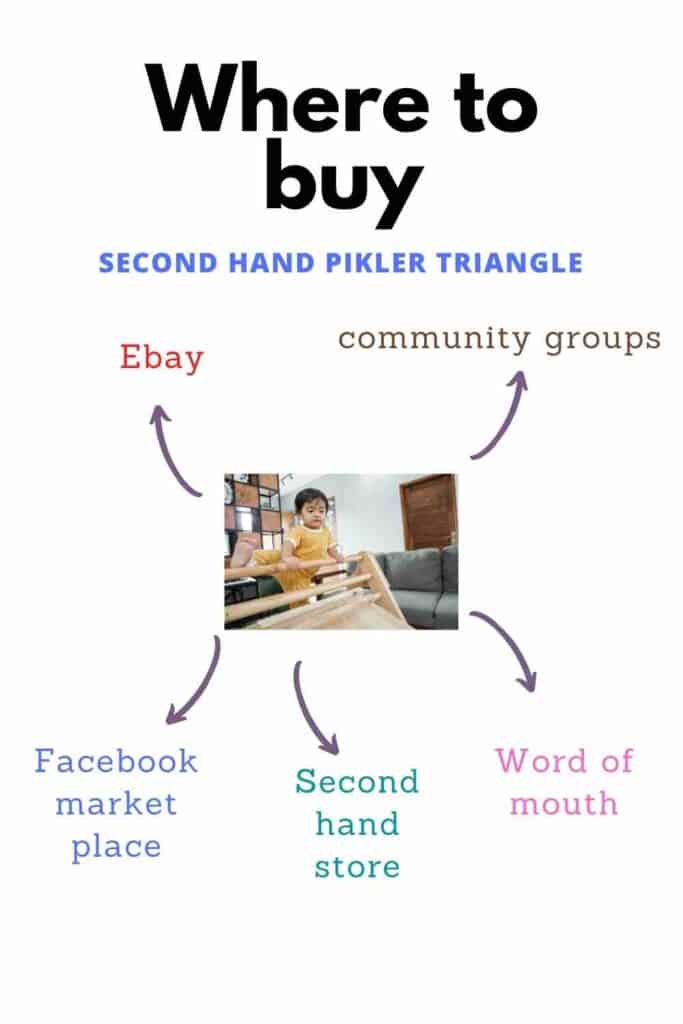 Ebay
Ebay isn't as popular as it used to be and when searching for Pikler triangles we found a lot of different choices. Nearly all of these choices were new products from a range of different manufacturers, some of which we had never heard of above.
If you can find a Pikler triangle on Ebay make sure it has been built by one of the brands we recommend in our checklist below and look closely at the photographs to see if there are any obvious signs of wear.
Word of mouth
One of the great advantages of being a parent is that we are often drawn to other parents. Our children attend play groups and we meet other parents when we take them to the park or day care centres. Since the Montessori method became more popular in recent years, the pikler triangle has also become very popular.
Ask around and see if any parents have a second hand pikler triangle they don't need anymore. This way you can trust that the triangle has usually been kept in good condition, they usually live nearby so you can try it out before you buy it and you might even be able to negotiate a better price.
Facebook marketplace
Facebook Market place has a lot of 2nd hand options. We found some used Pikler triangles nearby when we searched the market place. The only problem is that it's often hard to find a product you like the look of that's nearby.
Community buy and sell Facebook groups
Community buy and sell groups are often a great option. Usually sellers live in your community so you don't have to travel far to check the condition of the Montessori triangle. Buying from somebody in your community often means you'll know some of the same people or attend some of the same toddler groups. This can help you to better trust the seller and to more easily contact them if you have any issues with your second hand pikler triangle.
Pikler triangle Ikea
Ikea is known for creating good value wood products. They recently started to sell a range of beautifully crafted wooden toys for toddlers. However, it looks like they don't sell any pikler triangles at the moment. Hopefully they'll start to sell some soon or other similar Montessori toys. We think this style of toy would fit well with their other Children's bedroom designs.
Checklist for buying a second hand pikler triangle
Here is a checklist we created so that when you find a used pikler triangle for sale you can give yourself the best chance of choosing a good product and not end up paying too much for it.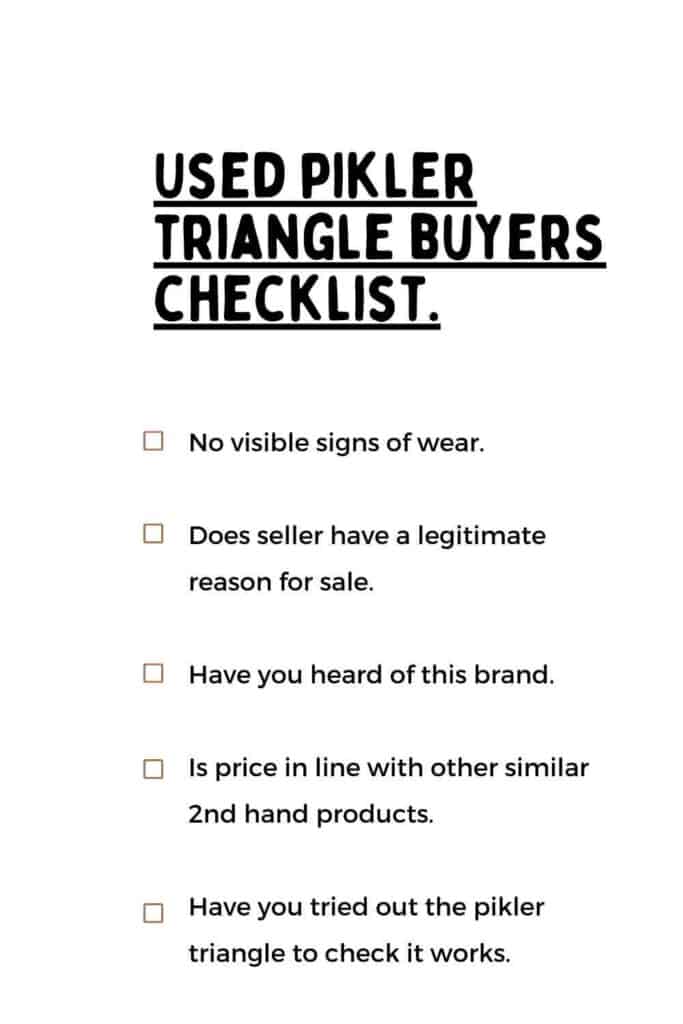 Reputable used pikler triangle brands
Here is a list of reputable Pikler triangle brands. If you buy one of these brands products you at least know they are likely to be made to last a long time. A well known brand will also have a lot of customers sharing their experiences of using the products. Read lots of reviews on sites like Amazon and other online toy stores and see how long the products last or if there are any common problems.
Costzon
Cassaro
Dripex
Wedanta
Woodandhearts
Wiwiurka
World of dream arts
Lily and river
Materials
Pikler triangles are made of wood. There are a number of ways you can check whether the wood used to build your second hand pikler triangle is in good condition or not. When wood deteriorates it can begin to crack in places. Be sure to check any second hand wood toys to make sure whether they have any cracks in the wood. If they do then it's a good idea to avoid this product because a Pikler triangle has to hold your child's body weight and will only crack more and could even break.
Is the toy Age appropriate
Check the age requirements. Usually the minimum age recommendation for a used pikler triangle is 6 months or one year old. Pikler triangles are suitable for toddlers so children must always be supervised when using them. Even though they do offer children the chance to gain some independence by holding onto the rungs, they must always be supervised. Be sure to ask the seller of any second hand products to let you know the exact model and age requirements for the product.
Is the seller trustworthy?
When you buy a new product you expect it to be in good condition. Nobody else has had chance to use it, wear it down or cause any damage. When you buy a second hand pikler triangle you need to try to find out a little bit about who is selling it.
Price
When comparing the price to a new product and other 2nd hand products does it seem reasonable. If the price is close to the new price then it's a better option to buy new. If the price is a lot lower than other similar condition products you need to think about why. Ask the seller how much it's been used, why they are selling it and if there has been any damage.
Condition of used product
Its important to find out what has motivated the seller to get rid of this product. If their child doesn't like to play on it or they are downsizing to a smaller house with less room then these are legitimate reasons for a sale. If their child has grown up then you need to try and find out how old they were when they bought the product to try to figure out how much it might have been used.
Looking for any damage on the wood, loose screws or other minor defects will help you to figure out if the condition is acceptable and safe according to the Kidshealth guidelines.
Why are pikler triangles so expensive ?
Wooden toy products are often more expensive then plastic toys. This is because high quality wood isn't cheap to buy and each product has to be handcrafted. You can see a lot of care and attention to detail has been put into making Pikler triangles. It takes time to sand down the surface as well and create that beautiful wood finish.
New vs second hand Pikler triangle comparison
| | | |
| --- | --- | --- |
| Comparison Criteria | New Pikler triangle | Used Pikler Triangle |
| Price range | Smaller triangles are available for under $100 but on average you'll pay around $150+ | Used Pikler triangles can be found priced between $50 and $150 dollars depending on the product. |
| Where to buy? | Amazon, Etsy. | Ebay, Facebook market place, second hand stores, community groups. |
| Warranty | Manufacturers and retailers often give a warranty. | It's not usually possible to get a warranty on a 2nd hand product so you are always taking some risk. |
| Longevity | Reading user reviews will give you some idea how long you can expect the triangle to last. | Unless you are sure how much it's been used and it's in a near new condition it is very difficult to predict how long it might last before it deteriorates. |