Tacoma is a city in Washington state. Washington state isn't one of the top gymnastics teams in the United states but they still produce some exceptional gymnasts competing in Washington state and nationals. In 2020 the Tacoma dome was due to host the US junior Olympic national championships but unfortunately it had to be cancelled. Hopefully it will be hosted here in the near future.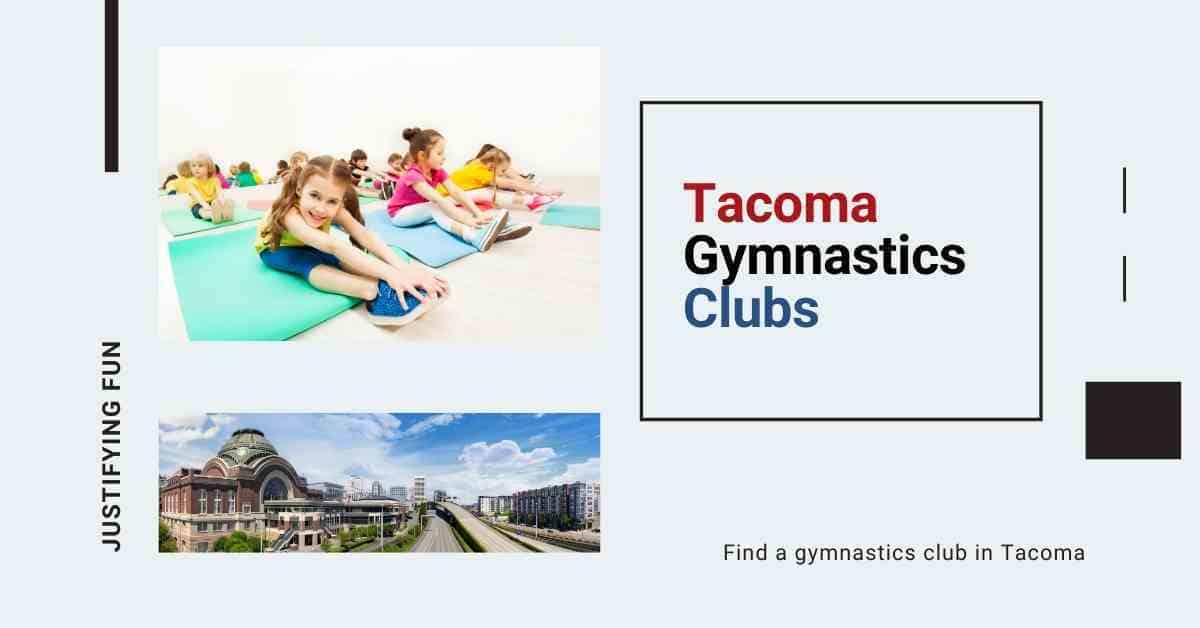 Gymnastics in Tacoma is on the rise with a large choice of gymnastics gyms to train at.
Whether your children are looking for a recreational class or to start a gymnastics class and begin working towards the gymnastics levels, there are gymnastics clubs in Tacoma that are suitable for both.
Gymnastics in Tacoma – Best Clubs
Let's take a look at a selection of gymnastics clubs in Tacoma. Tacoma is a great place for gymnastics because there are at least 15 USA gymnastics registered gyms in this city. There are a lot to choose from so if we have missed out your gym contact us and we will consider adding it to our list.
---
American gymnastics academy northwest
American gymnastics academy northwest is a family run gym and one of my favourite gymnastics clubs in Tacoma. What I love most about this gymnastics club is the attitude of the owners and the way they set out to create a club that doesn't only teach young gymnasts how to perform physically, but they also help children face their fears and approach their training in a positive, less intense way.
On their website they say that they don't just want children to take part in gymnastics, but instead to fall in love with the sport and feel safe to express themselves through their gymnastics. I couldn't agree more, often gymnastics coaches are intense and classes and strict and don't allow children to enjoy learning gymnastics skills.
Currently AGA northwest offer 'stars girls classes' for 5.5 – 9.5 year old girls. This classes teaches young gymnasts the basics of flipping and swinging and offers kids 6 levels to work through. Gymnasts will receive a coloured wristband for each level and a progress report. AGA also have a competitive gymnastics team that gymnastics are welcome to try out for if they are aged between 6 and 18 years old.
Address: 5943 6th Ave Tacoma, WA 98406
---
Zenith West Gymnastics Academy Tacoma
Zenith West offer both recreational and competitive gymnastics. If you are looking for a recreational class for your toddlers in Tacoma, they are going to love the recreational classes here. Not only will they learn some basic gymnastics skills, but they include songs, story time and a range of fun activities to inspire youngsters. On their website the gyms owner Lacey says that the Zenith West Gymnastics Academy provides gymnasts with a home where they will feel supported and loved.
Lacey has been a gymnastics coach for more than 17 years and for 8 years she helped judge state Junior Olympic meets, working as part of the USA gymnastics women's programme. Her experience and positive attitude are what make this gym a special place to train your gymnastics skills in Tacoma. During the pandemic Zenith West have been very innovative in the way they have offered online classes and the team work hard to keep all the equipment sanitised every day.
Address: 33 Montana Ave, Tacoma, WA 98409
---
Grace Gymnastics Center Tacoma
Grace gymnastics Center is a USA gymnastics member gym located in Tacoma. Grace gymnastics say that their mission is to "teach gymnastics in a comfortable atmosphere that is enjoyable and fun". This sense of comfort is so important especially for young gymnasts who are starting out and surrounded by lots of bigger gymnastics performing much more advanced skills.
Coach Kevin, Carleigh and Linda have many years experience coaching between them and coach Kevin previously won Washington state coach of the year. Kevin's experience and guidance along with the other coaches has led to Grace Gymnastics center having a massive team of gymnasts that compete regionally against other Tacoma gymnastics teams, within the state of Washington and nationally.
Address: 9715 Lakewood Drive S.W Tacoma, WA 98499
---
Inspire Gymnastics
Inspire gymnastics in Tacoma have a wonderful gym and coaches Georgio and Kim are exceptional. Not only do they have a lot of coaching experience but they know how to help gymnasts to individually succeed and improve the skills they need to. They understand that not every gymnast, even though they may be training towards the same USGA level, will be at a different point in their journey and will have differing physical capabilities and weak points to improve on.
Inspire gymnastics is all about inspiring your children to improve as gymnasts and to enjoy the journey.
Address: 104 49th St. NW, Auburn, WA 98001
---
Black Hills Gymnastics
Black hills gymnastics are located in the Lacey area of Tacoma. BHG gym is one of the biggest in Tacoma and they have great facilities. This gymnastics club has been around for almost 25 years and owners David and Alisa have a burning desire to inspire your children and ready them for their life journey with determination, tenacity and grace under fire.
If your toddlers are looking for a tumbling class to begin their gymnastics journey, BHG have a lot of fun activities and experience coaching youngster and they make their tumbling tot classes a lot of fun.
Address: 7961A 29th Ave NE Lacey, WA 98516
---
Tacoma Gymnastics – Final thoughts
Tacoma is a great city to live in if you love gymnastics. All of the above gyms have great facilities and experienced coaches. Regional competitions in Tacoma are flourishing and Washington state has highly competitive state meets. We hope your gymnasts enjoy their experience learning gymnastics at these Tacoma gymnastics clubs. We would love it if you would share your gymnastics experiences at these gyms with us so we can share them with our readers.