When I hear floating water mat I think of those small inflatable ducks and the inflatable lily pad I floated on as a child. Recently I saw the Rubber Dockie and I was excited to try it out and compare it with the floating lilos i used as a child! This isn't some small floating water lily or children's toy, this is a gigantic floating island for all the family to play on.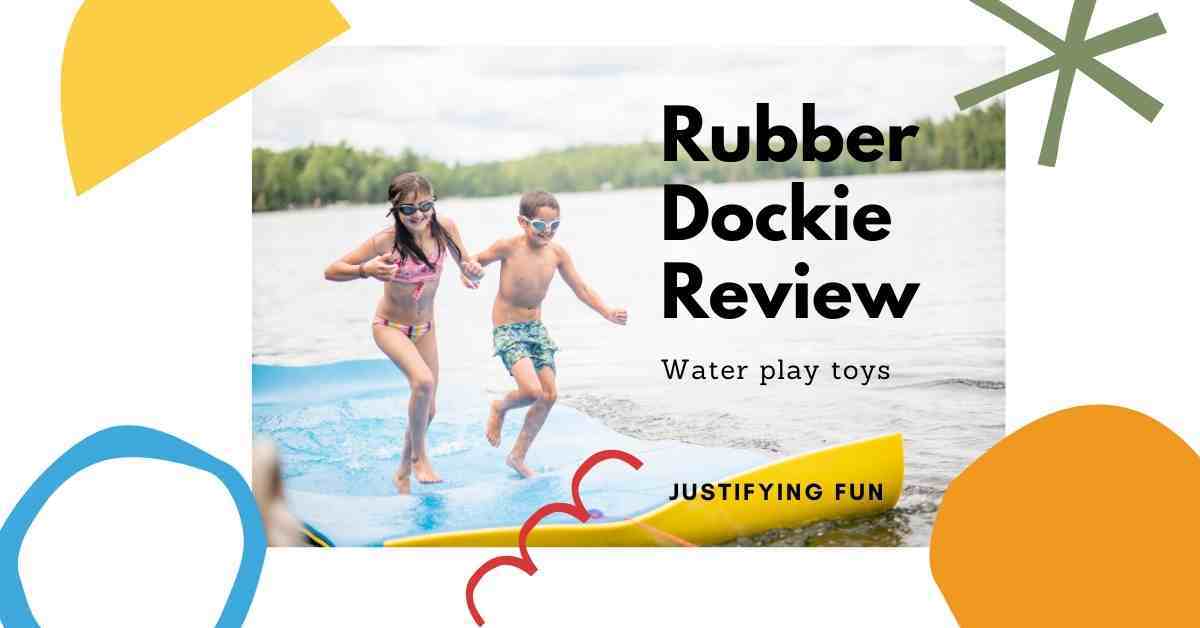 If you are going to invest in a water toy this summer then the Rubber Dockie is definitely worth checking out. The biggest size is 18 ft long and 6 foot wide, making it the same length as my living room but I think it offers a whole load more fun. It's light to carry and rolls up easily, with Velcro to secure it in place when you've finished playing on the water. Kids and adults can jump, surf, play ball, chase each other, wrestle and even use it as a diving board.
Rubber Dockie comparison table
Product Image
Giant floating water mat
Keep it secure
Best rubber Dockie accessory
Giant floating water mat
Product Image
Keep it secure
Product Image
Best rubber Dockie accessory
Product Image
Rubber Dockie fun play ideas
You can jump in and get wet or stand, walk and roll around on this giant float and trust that it will support you. Of course, it's on water so it will move and wobble, making the experience more fun. There are so many ways you can play on this inflatable water pad because it's so big you don't only have to float alone. Play together with 2 or 3 adults, or even more children.
The heavier you are the more wobbly the experience will be and if there is a lot of weight placed close to one edge it will sink down into the water, only to pop right back up into place again if you fall in. I'm going to share some fun play ideas with you so you can decide whether you think the Rubber Dockie is the water toy for you or whether you want to compare it with the Aqua Lily pad below.
Make your own water park
Create you very own backyard water park. If you buy an inflatable water park and the water is deep enough you can float the Rubber Dockie in it. Or, use a rubber Dockie, inflatable water slide and other fun water toys and place them all in the pool together.
You can even dive off the main surface, it's supportive enough that it won't sink and move too much when you put you jump off and put more pressure onto it.
Later I'll show you some accessories you can use to make the rubber dockie more of a water park experience.
Surfing and water balance games for Rubber Dockie
Stand on this water mat and balance like you are surfing. The mat is so stable and big that it's more fun if your friends hold onto the side and wobble the mat so you can try to balance and practice your surfing skills. Kids love to do cartwheels and flip their way along the surface
Sunbathing on Water
On the larger 18ft by 6ft Rubber dockie you can fit at least 6 adults lay down sunbathing together. Take this water mat to the lake or pool and make sure to tether it to a secure post at the side of the water.
Floating away while you sunbathe and trying to move this big floating island back to dry land can be challenging, trust me, It happens!.
Rubber Dockie 9×6 vs 18×6
The smaller 9×6 rubber dockie is perfect for 2 adults and a few children floating together. If only children are using it then it's possible for 4 or 5 children to float and play on it. If you only have a small pool or you are sure only a few people will be floating on it together than the 9×6 size is stable and big enough.
Choose the 18×6 option if more than 2 adults want to float together without getting wet. 6 adults can quite comfortably fit on the surface before it starts to get too crowded. With the 18×6 size more than 10 children can play together, it really is a big and stable surface.
Rubber Dockie vs Aqua Lily Pad
Let's compare the Rubber Dockie with the Aqua Lily pad. Aqua lily sell floating lily pads in a range of different sizes but the best all round pad is the Bullfrog floating water mat. The bullfrog comes in a choice of 15, 20 or 30 ft long and can support 1980 lbs or around 10 adults.
This mat is more expensive than the Rubber Dockie but for the extra price you get a floating water mat that comes in even larger sizes and the surface appears to be a little bit thicker. The extra thickness means this works great as a floating dock for launching boats from and for larger groups of adults who want to play together on it.
If you are a family of 4 or 5 or a group of children I think the Rubber Dockie is a great choice but if you are looking for a wider choice of size options for larger groups Aqua Lily pads have a wider range of sizes and different floating mats. They also sell some floating loungers for adults and smaller kids size floats.
Is the Rubber Dockie tether kit necessary ?
Click the image to view on Amazon
The Rubber Dockie kit isn't necessary unless you want to keep your pool float in one place in the water. Some screws hold this tether kit in place and it is easy enough to install. This little anchor is quite expensive though and for the price you could buy a bungee chord anchor and make your own tether for a much lower price.
Only buy this if you want to be able to keep your floating water mat in one place so it won't move across the water while you play on it. Half of the fun for me is being able to float around on this massive foam island, it makes playing on it more unpredictable and exciting, as long as you aren't in the sea where there is a strong current.
3 Rubber Dockie Accessories you'll love
Here are 3 Rubber Dockie accessories I think you'll enjoy playing with. The splash hoop is great fun because the Rubber Dockie can support you standing up on it and throwing the inflatable basketball. Both the Waboba ball and intex beach ball are also a lot of fun for children and adults to play with while floating on this big island.
Accessory 1 – Go Sports splash hoop
Click the image to view on Amazon
This floating pool basketball hoop is a great accessory for your rubber dockie. Place it on the float or in the water where it will float itself and you can throw he ball to each other before shooting some hoops. Even though the hoop floats it's fun to place it on the float because then you don't have to jump in and out of the water so much.
You get 2 water basketballs with the go sports splash hoop which means you can pass them both around a large group and not have to fetch the ball from the water as often.
---
Accessory 2 – Waboba splash bouncing water ball
Click image to view on Amazon
Waboba make one of my favourite pool toys. These Waboba balls are so much fun for playing in the pool because they bounce up off the water. Skim them across the surface and the ball will pop back up again a small distance off the water so your friend can catch it.
What makes the Waboba splash so much fun is that you don't know exactly how high it will bounce but you can still throw it accurately. The ball is squishy and soft enough that it doesn't hurt if it hits you and it has a nice weight so you can bounce or skim it off the water a long distance.
---
Accessory 3 – Intex summer beach ball
No products found.
Click image to view on Amazon
You can't play on the Rubber dockie without a beach ball. Intex know how to make inflatable toys better than most brands and this beach ball set is no exception. The set includes a giant 42 inch diameter inflatable beach ball and 2 smaller inflatable balls that are 24 inches. The balls are light but have enough weight to fly through the air a reasonable distance.
If you stand on the rubber dockie you can easily use your hands, feet and heads to keep it in the air and try to stop it landing in the pool. I love the feeling of kicking, hitting and playing with a beach ball and balancing on this pool float makes it even more fun.
Rubber Dockie Review – final thoughts.
I hope this review has helped you learn a little more about the Rubber Dockie and how much fun you can have with it. What is most appealing to me about this water float is the endless number of ways you can use it. It can be a giant floating sun lounger, docking platform for your inflatable boats or a place to throw balls around, balance and jump into the sea.
Children and adults can all use this to relax and have fun and if running around, wrestling each other and jumping into the sea isn't exciting enough the 3 accessories above will make sure you and your kids will have fun for many hours.
Product Image
Giant floating water mat
Keep it secure
Best rubber Dockie accessory
Giant floating water mat
Product Image
Keep it secure
Product Image
Best rubber Dockie accessory
Product Image