Children love to balance on outdoor balance toys in the backyard. Balancing helps children to improve coordination, learn to find their centre of gravity and most importantly balance toys offer a fun challenge. When I was younger I used to balance on sticks and small rocks, there were no balance toys, balance bikes or slack lines to balance on. Now kids can choose from all these outdoor balance toys that are safe, stable, colourful and often include a booklet with game and activity ideas.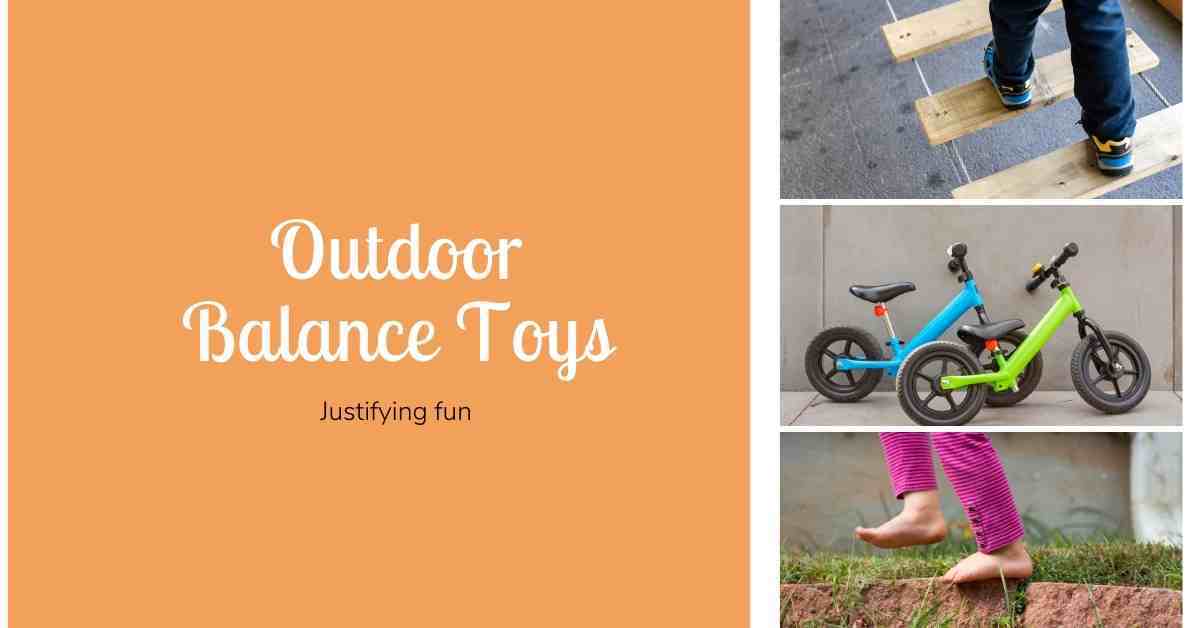 In this article i'm going to show you some of my favourite balance toys that you can use outdoors and then later take a look at some of the benefits children get by playing on a balance toy.
What is an outdoor balance toy?
An outdoor balance toy is a toy that challenges children to stand, walk or navigate their way across a surface by staying in a steady and balanced position and not falling off. Balance toys are designed as fun activities to be enjoyed outdoors. What I love most about balance toys is that they give children chance to improve their coordination and balance skills while having fun at the same time.
Outdoor balance toys can range from balance stones to more challenging and narrower rope courses. These balance toys also include balance bikes that are great for young children who aren't able to ride a full size bike yet.
Outdoor balance beam & stone toys
Product image
Fun balance stones
Balancing logs & stumps
slack line for balancing
Fun balance stones
Product image
Balancing logs & stumps
Product image
slack line for balancing
Product image
The table above shows three of my favourite outdoor balance toys that children can use to step on like stepping stones or walk across. We recently wrote about stepping stones in another article. Balancing stones and balance beam toys are a lot of fun to play on in the garden.
What makes these good backyard balance toys
Not only are these stones and beams fun to balance on and use as an obstacle course but kids also love to and play balance games where they walk on these objects and try not to touch the ground. You can combine stepping stones with balance beams, obstacles and backyard slack lines to create exciting courses around your garden that can entertain both toddlers and older children.
In the table above you can see the Flybold slackline kit, this is the most challenging of my three favourite balance toys because walking across a thin and wobbly rope requires a lot of awareness of your own centre of gravity and the ability to make quick adjustments to your body position in different directions.
This kit includes training lines for helping you learn to walk one foot in front of your other foot on a rope before working your way up to the bigger balance line. Each of these rope lines has to be attached to a tree or strong post using a ratchet. Tightening the ratchet is easy and will make the rope slack so you can try to balance across it.
The Hapinest outdoor balance stones in the table above are designed to look like colourful turtle shells. Each turtle shell is a different fun colour and they have a non slip surface so children can step across them easily without falling.
Children love to jump from stone to stone, you can move them closer together or further apart and in different positions around the yard making the course more or less challenging. Jumping is fun, children love to jump into puddles, jump over a skipping rope and even jump around your living room just because they feel like it.
The shape and pattern on each of the balance stones really looks like a colourful turtle is sat there. In the Hapinest set, 3 of the stones and larger in size and three are small and more difficult to step on. Hapinest have even created a game you can play. There is a spinning wheel with an arrow that spins around and points to a coloured picture of a turtle shell. The child who's turn it is has to jump across to that colour stepping stone.
I'm sure you can imagine many ways of playing this game including more than one child navigating their way past other children without touching the floor, or racing to be the first to stand on a coloured turtle stone. For older children there are some activity cards. Each card gives an instruction and some fun facts about turtles.
One card asks you to swap turtle shells with another player without falling off which can really test your balance and motor skills and another card says you must balance on one foot. There are even some funny activity cards that ask you to say turtle in a turtles voice and silly tasks which kids love. When you have all finished balancing you can stack the balance shells into one pile which is great if you are
In the table above my third choice is the EDX Education step a trail. There are 3 logs in this set which are orange and green and they are long and thin, a little bit like small foam balance beams. The other 3 objects included in this balance set are shaped like colourful tree stumps and offer a round surface for children to step and balance on with either one or two feet.
Building a balance course outdoors with these logs and stumps is a lot of fun. The materials they are made with are strong and even adults can stand on them but most importantly they stay in place and are stables on grass or more solid garden surfaces.
Outdoor balance bikes
Balance bikes can help toddlers and young children to begin to learn to move around quickly using their legs. Having the 2 wheel bike and being able to power it with your legs gives kids a real sense of freedom and quickly helps them build up more strength and power in their legs and keeping the bike stable is a good balancing exercise.
Children can begin to feel what it feels like when your body is off balance and learn to understand which movements correct it and keep you balanced and stable. Balance bikes are great for helping young children who can't yet ride a bike to balance themselves before they have the coordination and strength to ride and balance on a regular bike.
Product Image
Fast balance bike
Easy to learn 3 wheel bike
Fast balance bike
Product Image
Easy to learn 3 wheel bike
Product Image
The Strider balance bike toy in the table above is a really cool bike. This bike has a steel frame which is quite light but you can buy the slightly more expensive Strider pro if you prefer a light aluminium frame.
Kids love this bike because the frame is positioned low down to the ground so it's easy to lift your legs over and sit on the seat without falling or wobbling. there are no brakes on the standard Strider but the pro version has rear brakes which mean you can slow down without the bike flipping.
It takes time for toddlers who can walk to be able to run and move around quickly while staying stable and supported by the bike. What makes the Strider great is that toddlers can use t with their feet firmly planted on the ground but as they build up strength and balance skills they can lift their feet up and glide until eventually they can glide while staying balanced.
The second bike in the table above is the Allobebe balance bike. This cute pink and white 3 wheel bike offers an easier balance experience than the 2 wheels balance bikes above. Toddlers aged 12 to 36 months can use their three wheel toy as a transition from walking to riding a 2 wheel balance bike.
You can still learn to balance with three wheels because you can turn the bike and build up the strength needed to support your eight and make the adjustments necessary to play on more challenging outdoor balance toys.
Why balance toys are more fun outdoors
Most children find balance toys are more fun outdoors because there is usually a lot more space outdoors. You can ride your balance bike around the garden or create an obstacle course to balance on that is much longer than if you only have your living room to navigate around.
Balance activities are usually associated with the outdoors because kids often explore outdoor adventure playgrounds
Benefits of outdoor balance toys
When I was a child I loved balancing. Balancing on balance toys brings out a sense of adventure, danger and excitement in children . You always have the risk of falling and the sense of achievement of having made it to the other side of the objects or course. Children are still learning what their bodies can do whether it's running fast, jumping higher or doing a forwards roll for the first time. Balancing is a new skill for young children and even though as adults we are more stable than children, balancing is still a challenge.
Every balance toy you try to balance on, is shaped in a different way and you have to keep adjusting your positions, moving your arms out to the side and being slow and precise about your movements. It takes some level of skill, practice and concentration to stay balanced, especially on an unfamiliar object.
The balance bikes and stones above are designed to make learning to balance a more exciting experience and they can help speed up the process and encourage children to spend more time being mobile and exercising.
Product image
Fun balance stones
Balancing logs & stumps
slack line for balancing
Fun balance stones
Product image
Balancing logs & stumps
Product image
slack line for balancing
Product image