Montessori balance boards are the perfect physical and educational development toy for toddlers. Before I show you some amazing Montessori Waldorf balance boards ( wobble boards ) let me quickly introduce you to the Montessori method of learning so you can understand why these balance boards are so loved.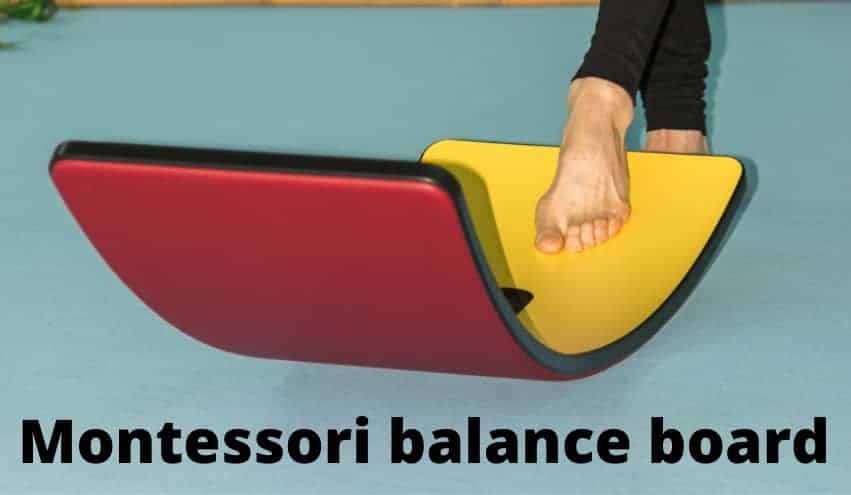 Product Image
Popular choice
Beautiful design
Unique & creative design
Product Name
Milliard Waldorf Balance board
Click to view product on Amazon
Popular choice
Product Image
Product Name
Milliard Waldorf Balance board
Click to view product on Amazon
Beautiful design
Product Image
Click to view product on Amazon
Unique & creative design
Product Image
Click to view product on Amazon
Montessori method & balance board benefits
The Montessori method is a curriculum based on student-led, hands-on learning, and independent activities. The classroom is set up so that it allows children in each age group to explore and discover at their own pace and in their own unique style. Students can work individually or in groups to maximise their learning experience.
Founded by Dr. Maria Montessori, this method is designed to meet the needs of students and she observed that experiential learning in certain age ranges developed a deeper grasp on subjects such as science, maths, language, social interaction, and music. 
The Montessori classroom described by Dr. Montessori is a "prepared environment." Each of the materials used in this method is a thoughtful learning tool utilised by students to promote movement, self-learning, self-correction, independence, and peer teaching. The materials promote exploration, self-discipline, and freedom. The materials encourage sensory and cognitive skills and help develop awareness of oneself and those around you. 
Thus a Montessori balance board is a wonderful Montessori material for toddlers and children to play and learn. Also known as a curvy board, the  balance board helps a child to develop proprioception or gain awareness of his or her body weight. This helps children with their coordination, posture, sensory skills, and provides exercise and core strength. It also attributes to their vestibular system, which is the inner ear, related to equilibrium.
The balance board stimulates imagination and creative play. As a hands-on and freedom-learning activity, the balance board is a perfect Montessori based material.
The balance board is also suitable for all ages. Toddlers and 2 year old's will have fun learning to balance and creating new ways to use the board, and preschoolers will enjoy using the wobbly board in imaginative ways like a see-saw, or a boat. Even adults can use this board to better their balance and strengthen their core. The benefits and various activities from a balance board can truly be an entertaining family pastime and great way to share countless hours of fun. 
Best Wooden Waldorf balance boards reviewed
Many readers have been asking Which balance board is best?
Let's take a look at some of the best balance / wobble boards that you can buy for your toddlers to play and learn on and find out which is the best for you. As you now know there are many benefits of using a wooden balance board. Whether you follow the Montessori method of toddler development doesn't matter. A wobble board is a lot of fun and an exciting toddler learning experience.
I want you to take a look at these wonderful balance boards from Milliard, Kinderfeet, Han-mm and Cassaro. A lot of care goes into the design and development of these boards and the finished products often look beautiful with their wooden patterns and curved shape.
---
Milliard Wooden Waldorf Balance board
Click the image above to view the product on Amazon
This Waldorf balance board from Milliard is a great product for children. The price may seem a little high for a piece of curvy wooden board, but the durability and hours of play make it worth every penny. The Waldorf can hold up to 220 pounds, making it suitable for children of all sizes.
The edges of the wood are smooth and safe and the beech wood itself is very sturdy for a family to use over and over. I really enjoy the simplicity of this product. It really does look like it has been carved to perfection without any added sparkles, colours or add-ons. A simple design is all you need for a Waldorf balance board. This board will do exactly what you'd expect a balance board to do and it will do it very well, without any unnecessary bells and whistles.
The board can be used for exercise, stretching, and creative and imaginative play.  It is also a great way for active toddlers and children to release energy as they can play on the board multiple ways. Children have turned this board into a rocker, a slide, a boat, a fort, and many other inspired styles.
I've seen children lying down on the curved side to read, stretching into yoga positions like the downward dog and rocking back and forth lying on their bellies. This board looks marvellously simple but is a versatile, open-ended, inventive toy that offers a lot of fun for the whole family. So whether your 12-year-old uses the board to practice skateboarding skills, or your 3-year-old uses it as a truck ramp, this versatile balance board is beneficial as well as fun. 
---
Kinderfeet Kinderboard balance board
Click the image above to view the product on Amazon
The Kinderboard has a slightly different curved shape and looks a little thicker and bulkier than the Milliard Waldorf board. I really love the natural contours and patterns on this wooden board. You can also choose from a beautiful selection of colours and designs that include rainbow, bamboo, rose and chalkboard grey. All of the designs look really striking, smooth and appealing. If you want to use the Kinderboard both outdoors and indoors you can because of the water based coating.
A kinderboard can be used to balance, as boat, seesaw, slide, step stool, rocking seat, tunnel for toys to crawl under or any other uses your children can make up. Having so many possibile uses make the kinderboard the perfect choice for helping your children learn using the montessori method because it allows for imaginative play, self learning, improving coordination, posture, core stability and many more important skills.
Not only can children have fun balancing on this rocker but adults can use it too, with the heavy duty wood able to hold 220 kg.
---
HAN-MM Wooden Balance Board
Click the image above to view the current price on Amazon
HAN-MM have created another wonderful Montessori balance board design that is suitable for all the different exercises and activities balancing boards are great for developing and having fun with. Kids can develop strength, stimulate their vestibular systems and learn to balance. To make this board even more enticing it comes in a range of colours that includes, yellow, dark green, cyan blue and light grey.
The curved outer side of the boards is coloured and the inner curved section you stand on when balancing, is the natural colour of the light tone beech and birch wood. At 32″ long, 11.8″ wide and 7″ tall this is a good size board for toddlers.
I love this design and I'm sure your children will enjoy using at as a teeter totter rocking side to side, creating a bridge, tunnel, slide, rocker, seat, nest, fortress, hill and many more different uses. If you want to encourage your children to develop a range of different physical skills while having fun and being able to use their imagination, this curved wobble board a great choice.
The HAN-MM board is a Montessori method toy that is handmade and encourages exploration of a versatile range of activities.
---
Cassaro Waldorf Rocker
Click the image above to view the current price on Amazon
This Cassaro Waldorf rocker is a wobble board with a difference. Not only can you rock back and forth balancing on the board, but there are handles, side supports and separated wooden planks with gaps between them so you can hold, grab and find new ways to interact with the rocker.
Children love to sit in this curved, boat shaped rocker and rock back and forth. Even though it doesn't have as much charm as a rocking horse, the design is appealing and fits well in your home, with the beautiful wood tone and no crazy colours.
The Waldorf rocker wobble board for toddlers, is different from the smooth surface you will find with most of these products. Having the slats can make pulling yourself along the surface easier, but it also creates more uneven surfaces to navigate. Even though the gap between rungs is narrow, it is still possible for it to make walking across a little bit more difficult. It really depends which kind of board your children prefer.
A smooth surface makes travelling across it easier and is fun for creating a ramp. Having wooden planks and handles, makes it easier to climb up the surface when it is placed upside down. The Pikler triangle is one of my top montessori toys and the Cassaro waldorf rocker offers a similar experience even though it doesn't offer the vertical climbing angle, kids can still pull themselves along the surface and learn some additional skills.
We also recommended the Cassaro rocker as a pikler triangle alternative because it offers children the chance to practice balancing.
---
Montessori balance board benefits
The Montessori method is so popular and loved around the world because of the way it encourages children to develop through hands on physical activities. The Montessori balance board is beneficial for parents looking to follow the Montessori method because of the number of possible uses for the board. Children can stand on the board and wobble side to side to improve their balance, crawl on the surface or turn it upside down and use the board as a ramp to crawl along.
A balance boards wobbly surface helps children learn to quickly adjust their position and make self-corrections in the moment. The moving surface of a wobble board offers a unique set of benefits because it encourages children to explore through fun play activities, but also creates a sense of discipline when children learn the boundaries of the board and know what they can and can't do.
Another great benefit is the sense of freedom children have when allowed to play and explore this Montessori toy by themselves. This exploration helps children develop proprioception which is the awareness of self movement and the position of your body. Core strength improves with balance activities because of the fine adjustments you need to make and a reliance on the core muscles for stability.
Whether you love the Montessori approach to a child's growth and development, or want your children to experience more of these kind of toys you'll have a lot of fun watching and helping your beloved toddlers entertain themselves for many hours of fun on a wobble board.
Product Image
Popular choice
Beautiful design
Unique & creative design
Product Name
Milliard Waldorf Balance board
Click to view product on Amazon
Popular choice
Product Image
Product Name
Milliard Waldorf Balance board
Click to view product on Amazon
Beautiful design
Product Image
Click to view product on Amazon
Unique & creative design
Product Image
Click to view product on Amazon