When you are looking for wooden customizable children's playsets, one name that you are going to see time and time again is 'CedarWorks'. People love the Maine-based company. But, are their wooden playgrounds as good as they are cracked up to be? We decided to take a look.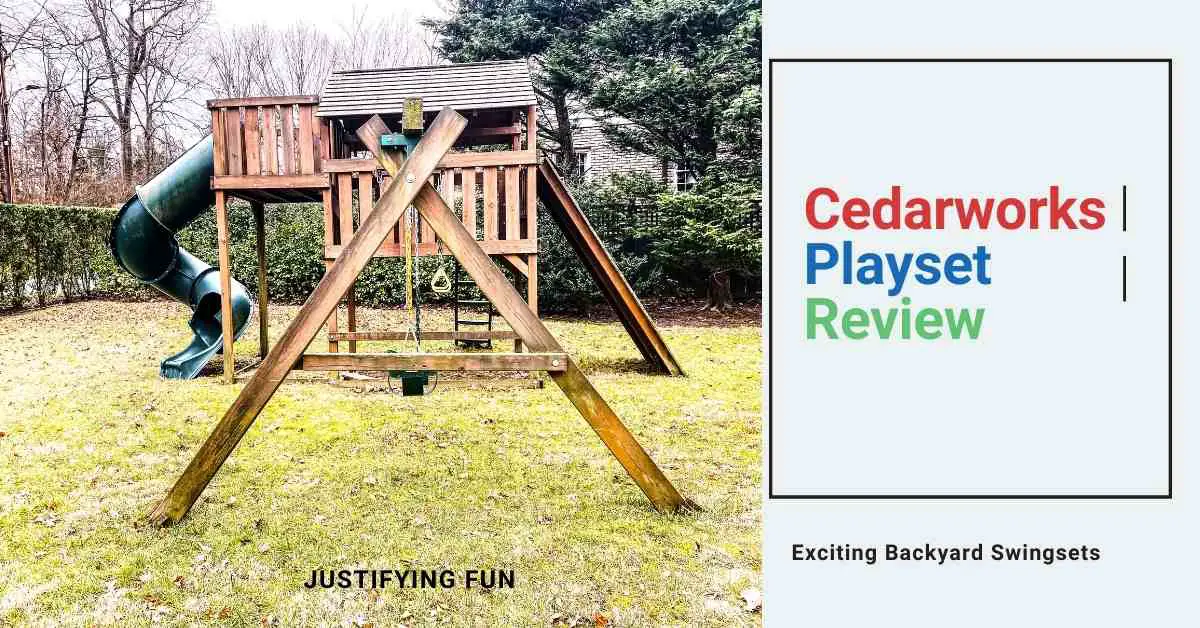 Products Available From CedarWorks
CedarWorks is a company that specializes in modular playsets. While they have a few 'readymade' sets, the bulk of their range will give their customers a higher degree of customization. If you can imagine something you've seen before in a children's playset, then you will most likely be able to add it to your CedarWorks product. This includes the likes of:
Monkey bars
Sky bridges
Slides
Ladders
Rock climbing walls
Telescopes
Poles
Roundabouts
The company also offers non-customizable indoor playsets and play beds. All of the CedarWorks products are manufactured from northern white cedarwood. The wood always comes unstained, but customers will be able to stain it themselves.
Product Image
Cute backyard playhouse
Cosy and fun design
The Ultimate Swingset
Product Name
Kidkraft Cedar Summit Playhouse
Backyard Discovery Victorian Inn
Backyard Discovery Skyfort II Swingset
Pros
Fun country cottage style & Shop serving window
Beautiful and homely cottage
Massive selection of exciting play activities
Cons
Expensive & not as visually appealing as some other cottage designs.
Takes 3-4 hours to construct
Structure is really big, you'll need plenty of space. Not a cheap option.
Click to view product on Amazon
Cute backyard playhouse
Product Image
Product Name
Kidkraft Cedar Summit Playhouse
Pros
Fun country cottage style & Shop serving window
Cons
Expensive & not as visually appealing as some other cottage designs.
Click to view product on Amazon
Cosy and fun design
Product Image
Product Name
Backyard Discovery Victorian Inn
Pros
Beautiful and homely cottage
Cons
Takes 3-4 hours to construct
Click to view product on Amazon
The Ultimate Swingset
Product Image
Product Name
Backyard Discovery Skyfort II Swingset
Pros
Massive selection of exciting play activities
Cons
Structure is really big, you'll need plenty of space. Not a cheap option.
Click to view product on Amazon
The Most Popular CedarWorks Products
We can't tell you what the most popular CedarWorks products are. This is because their products are 100% customizable. CedarWorks works on a modular system. You start with an architectural style:
Architectural (castles and the like)
Classic
Rustic
And then build your product from that adding whatever you wish. It could be small houses. It could be slides. It could be rope bridges. Every single product is going to end up different.
The only products offered by CedarWorks that can't be modified are their cheaper playhouses. These come in two styles; rustic or modern. 
The Pros
Let's start with the pros of CedarWorks i.e. the reasons why you may want to check out the products that they have on sale.
Range of Products
Because their system is modular, you do have an unlimited selection of products. This means that you will be able to plan your children's playset based on your budget, their age, and even the size of the land that you have available.
CedarWorks includes a handy 3D builder on their site to put together your playset. However, somewhat annoyingly, there is no way to see the price when you do this. We reckon this can result in people planning fancy playsets that they have no chance of being able to afford.
Durability
There is no denying that CedarWorks products are durable. The wood that they are constructed from is tough. CedarWorks uses a variety of joints (never nails or solely screws) to put together their playsets. This means that these things are built to last a long time. Some people have said that their playsets have been able to stand up to hurricanes.
One thing is for sure if your child is running about on this, there isn't going to be the 'rocking' that you would get with a typical playset. Of course, do bear in mind that you will be paying for this durability. As you will discover soon, these are not cheap playsets. 
All of their products come with a 10-year warranty.
Safety of Products
We have already talked about how the joints on CedarWorks products are designed to be tough. You don't have to worry about the playset randomly falling apart, and maintenance is low. However, the wood that they use is naturally splinter-free. This means that you also don't need to worry about your child running, crying to you with a splinter lodged deep in their finger.
Installation 
CedarWorks also offers an installation service. They have third-party contractors around the country (who we suppose have been vetted) that can connect everything up for you. If you want to do things yourself, then it should be fairly self-explanatory.
The Cons
While it wasn't necessarily something that we experienced ourselves, a lot of people seem to complain bout the customer service at CedarWorks. Many people have found it dreadfully difficult to get problems fixed promptly. This is one of the major issues with CedarWorks. Because they use third parties for playset installation outside of Maine, the quality of installation can be a little sporadic.
In addition to this, the cost of installation can vary across the country. CedarWorks suggests that it is about 15% of the purchase price, but it could be considerably higher, depending on where you live.
The frustrating thing is that CedarWorks doesn't make it incredibly clear that you do not need to opt for their installation service. After all, why would they? They will profit from it. That being said, we do encourage you to spend a little bit of extra cash to ensure that things are done properly.
Finally, while we do believe that the price of CedarWorks products is fair, we know that they can be prohibitively expensive for a lot of people. Even the most basic of playsets is going to set you back $2,000 before installation. Once you start to throw some extras on top of that, you are well into a price that could total several thousand dollars.
Cedarworks customer reviews
There are many reviews from cedar works customers online. I'm going to summarise a few of the main positive and negative opinions customers have about CedarWorks. Many customers on facebook wrote about the high quality construction and the sturdiness or cedar works play sets and that they experienced good customer service and installation.
One customer suggested the customer service was terrible but didn't go into detail about why and another commented that their playset started to wear and changed colour after one year. One of the most surprising comments was a customer who claims to still have a cedar works playset standing after 20 years!.
There are also a few interesting reviews on Yelp. One customer purchased a playset for a commercial nursery and found that it didn't withstand the heavy duty use Cedarworks said it could. A handyman from California who constructs Cedarworks playsets for many years said that the quality of the timber and hardware impressed him.
Backyard playset brand comparison
Let's take a look at some of your other options when choosing a backyard playlet so you can decide which brand is best for you, your price range and which accessories you like best. Click on the playset brand names to view an article about that brand or a comparison of the brand with another playset brand.
| Playset brand | Price Range | Materials & key features |
| --- | --- | --- |
| Cedarworks | $2500+ | Northern White Cider wood. high end customisable play-set designs available to buy online directly through the company. Constructed and sourced in the US. |
| Backyard Adventures | $450- $40000+ | Low priced pre-built sets available to buy online. You can customise your own play set on the brands website. Attachments are dark green and the main wooden playlet frames are constructed using red cedar wood. |
| Backyard discovery | $400 + | Simple to use innovative 3d technology assembly app. Cedar wood design |
| Creative playthings | $1499+ | Creative playthings sell swing sets, accessories and commercial playground equipment. Southern yellow pine construction. |
| Eastern jungle gym | $699+ | Cedar wood designs. The lowest price range is for smaller swing sets and Eastern jungle gym offer larger jungle gyms for over $5000. They sell hardware and other wooden play set accessories. |
| Kidkraft – Cedar Summit. | $369+ | Low price Cedar wood designs available to buy at online retailers. |
How long do Cedarworks playsets last?
Cedarworks playsets are mostly covered for 10 years against any structural damage. This means that Cedarworks playsets should last for at least 10 years before you experience any structural problems. It can depend on different factors which include weather conditions and how many people are using the wooden playset. Cedarworks wooden playsets are built using Northern white cedar wood which they claim is highly decay resistant and can last for up to 20 years untreated. In the customer reviews we wrote about above, one customer did claim their playset lasted 20 years.
We think if you are willing to take good care of your playset and don't live in a location with extreme weather conditions you should reasonably expect your playset to last 10 years. if you experience any problems be sure to contact Cedarworks because any issues with build quality can worsen over time and cause the lifespan of your playset to reduce a lot.
Final Thoughts about CedarWorks
CedarWorks products are popular for a reason. They are durable and you have a lot of options. Although, you are going to be paying for this versatility. While many people will find CedarWorks offers some tremendous products, they will likely be out of the budget of most people. Customer service is also questionable if you buy further away from their Maine company base as you could encounter issues with quality of installation from their third party installers.
If you can afford to splurge on a wooden playset then Cedarworks or Rainbow playsets are good choices, made of high quality wood. Both brands offer a high levels of customisable wooden play structures. This customisable kind of playset used to be reserved for only the high end of the market but both backyard discovery and backyard adventures offer customisable playsets alongside their cheaper, easy to assemble sets you can buy online.