When I think of tree swings it brings back memories from my childhood. Swinging from a tree in the fresh air, exploring the outdoors and the adventure it brings. It's fun to see kids have fun on a tree swing but why not relive some of your childhood memories with a tree swing suitable for adults. The best tree swing for adults is heavy duty, safe and more spacious than a children's swing. You can choose from wooden swings, saucers and giant tree swings that can often fit the whole family.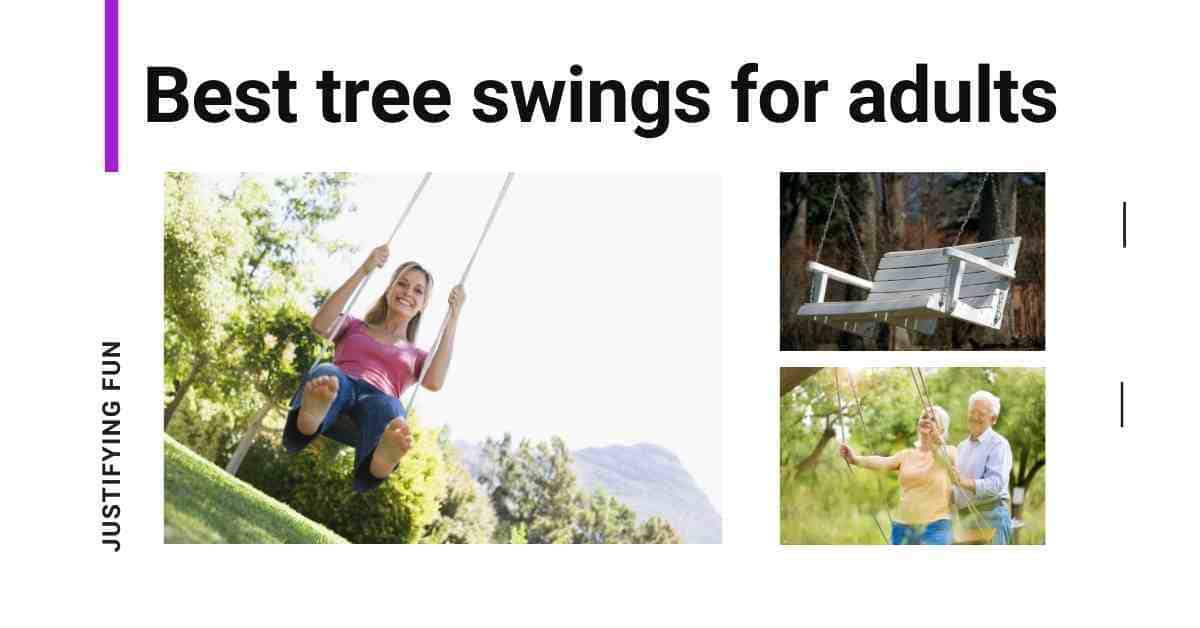 Later in this article I'll show you how to find the right branch or frame to support a tree swing. This is the biggest problem most of us face when we buy a tree swing. When I first installed a tree swing I had to research how to find the right branch and how to attach it safely and I hope what I learnt will help you.
Giant tree swing for adults
I love the giant tree swing. You'll need to make sure you have a strong enough frame or tree as it's much heavier than a regular tree swing and holds a lot more people. I'm going to show you the Trekassy giant platform swing, one of my favourite large swings for your backyard.
Trekassy Giant platform tree swing
Click the image above to view on Amazon
I'm going to recommend the Trekassy giant platform swing because it is cheap, easy to assemble and the shape means it is a great hammock to lounge on as well as being a fun swing. The swinging motion with a platform swing like this is gentle and if you are swinging alone it takes some effort to get the platform to swing faster and further out. This swing is definitely more of a gentle swinging lounger that you can put the kids on. Push them and have them swing faster with your help as they might struggle to swing fast without you pushing. You'll find most people use this giant platform swing to relax outdoors and it does the job very well.
The Trekassy giant platform swing comes in 2 size options, 45″ or 60″. Both sizes are suitable for up to 2 adults and have weight limits of 700lb. The 60″ option is 32″wide whereas the 45″ long swing is 30″ wide. As with any giant tree swing, finding a strong enough tree branch to support the swings weight when carrying heavy adults or lots of children, is a challenge.
This giant platform swing it made with a steel frame that is covered in a weather resistant fabric. I like that the fabric is easy to clean and comfortable to sit on. It looks a little bit like a trampoline but the woven fabric seat is more comfortable than a trampoline and not bouncy. The fabrics will start to fray over time but the structure should stay strong for a long time so it doesn't seem to be any less safe. Trekassy include tree straps in their package.
The straps are long enough to fit the widest branch you could possibly find and are easy to adjust. I'd recommend this swing as being a good low cost choice for adults and families who want to spend more time relaxing in the yard. Don't expect a wild and fast swinging experience and you'll enjoy it.
Wood tree swing for adults
Wooden tree swings hanging from a tree in the garden bring up memories of childhood, famous movies and the great outdoors. Nothing conjures up the image of country living and a relaxed garden vibe than a wooden tree swing. Sure, it is just a piece of wood hanging from some rope, but swings are addictive, they can be both fast and exciting or create a gentle and relaxing motion.
Huaying tree swing
Click the image above to view on Amazon
The Huaying tree swing is simply a piece of strong Elm wood with two ropes attached to it. Many manufacturers try to complicate wooden tree swings by designing them in all sorts of unusual shapes and sizes. Luckily this design sticks to the basics of tree swings and keeps it simple. The ropes attached to the swing look rustic and even though the seat is a little less rustic, with a polished finish, it is smooth and comfortable.
Now for the information you really want to know, how does it swing and will it accommodate an adult. If you attach it to a branch that is parallel to the ground and not slanted, it swings well, just as you would expect a rope swing to, there's no friction or wobbling. The seat is really wide and even the biggest family member should fit on comfortably.
The rope holding the swing is hemp rope. Hemp rope is great for tree swings because it is very strong. It can also be used for other purposes, such as tying up a boat or hanging laundry to dry. This type of rope was once commonly used for ship rigging and other maritime purposes.
It is now mostly used for decorative purposes or as a natural fiber rope. It's also biodegradable and environmentally friendly which is nice to know when you are swinging amongst the trees. It is also very strong, making it a good choice for holding us securely on this tree swing. Thankfully this tree swing also comes with 2 trees straps to prevent the rope cutting into the tree and damaging it. choose this option if you want a wide, cheap and simple swing that does exactly what you'd expect it to.
Saucer tree swing for adults
If you are wondering what a saucer tree swing is, well, let me tell you. A saucer tree swing is a swing that is suspended from a tree by ropes or chains. It is usually round, like a saucer, and has a seat in the center for one or two people to sit on. Saucer tree swings are a great way to enjoy the outdoors with family and friends. You'll usually see kids laughing on a saucer swing in the playground as it both swings and spins in unexpected ways. Now us adults can also swing on a saucer tree swing without all the kids in the playground staring intensely as we steal their turn.
Trekassy saucer tree swing
Click the image above to view on Amazon
We've already looked at one Trekassy tree swing but this saucer swing is very different. the platform swing above is more of a lounger whereas this saucer swing can do 2 different things. The first option is that you can attach the swing to one point above and this will make it swivel around side to side while swinging back and forth. The other option is to attach the swing to 2 points above and it will swing back and forth but won't swivel. In my opinion the only reasons to get a saucer swing instead of the giant swing above is to use the one point attachment and have fun swinging and rotating around 360 degrees as your swing.
The hanging straps are well made and the swing is solid. Just be sure to check it carefully and make sure everything is secure and safe before swinging. I love the rainbow colour design but if you want the swing to blend into your garden better, the green and black option is the best choice for you.
What to look for when buying an adult tree swing
When buying a tree swing suitable for an adult you should consider a few key factors such as weight capacity, seat size, and construction. The weight capacity is an important consideration because you want to make sure the swing can support your weight. The seat size is also important because you want to make sure it is comfortable for you to sit in and that you aren't squished against the sides or getting rope burn. The construction is important because you want to make sure the swing is well made and will last for years.
How to select a safe branch and attach a tree swing
Fastening your adult sized tree swing to a tree isn't always easy. First you have to find the right tree and then you need to look a little more closely to make sure the branch you choose really is wrong enough and healthy enough to attach the tree strap to it and support the weight of the swing and any adults swinging on it. Here are some steps that will help you choose the right tree.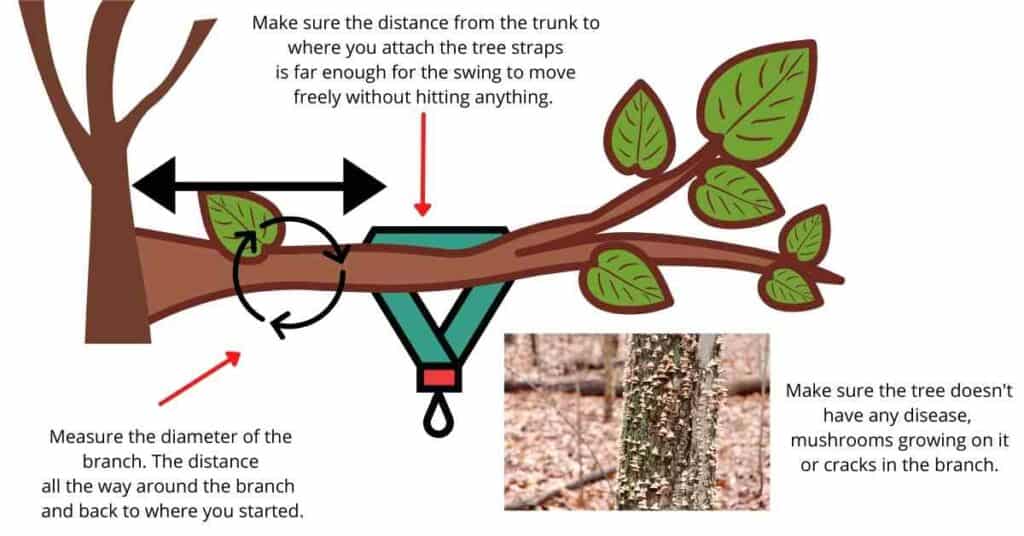 Healthy tree
Make sure the tree is healthy. If the tree is healthy it will have leaves growing from it. Most importantly the branch you are going to attach the rope onto should be healthy, have leaves growing from it and there shouldn't be any sign of mushroom or other rotten wood. If you see any wood eating insects or cracks starting to appear in the branch, this is a sign that the tree might be unhealthy and not safe enough to support your tree swing. If you aren't sure, ask an arborist (tree surgeon ) to take a look.
It's also useful to check that the branch is big enough but not too big compared to the size of the tree trunk. if the branch you choose is more than half the size of the main trunk of the tree than it is more likely to fall as the trunk won't be strong enough to support it as it grows. To make sure the trunk of the tree is big enough, measure the diameter and if it is over 10″ this is usually a sign that it's big enough. The more weight you are going to hang from it the bigger you want the branch diameter to be.
Branch location and length
Choose a branch that is long enough so that you can hang the swing from it and not risk it hitting the main trunk or other branches. Not only should the branch be thick enough but it needs to still be this thick at the point where you attach the tree straps. It is also important to make sure you use trees straps to attach your swing to a tree branch, otherwise a rope or chain will wear away the branch and it will become unsafe.
Final thoughts – is a tree swing suitable for an adult
Swinging in a park, on a beach, or in your own backyard can be incredibly calming. The back-and-forth motion is repetitive and soothing, making it the perfect activity to de-stress after a long day. And since tree swings are cheap, they're the perfect way to relax without having to spend a lot of money.
When you swing on a tree swing it feels like you're flying. In my opinion It's one of the best most liberating feelings in the world. You can swing as high as you want and it's just so much fun. Every time I go on a tree swing I can't help but smile.