Children like toys that do something unexpected because it is exciting for them. Having a toy that grows in water is a really magical and fun experience for children. Place this small sponge like toy in the water and it transforms into a much bigger object. Its science, magic and a unique learning experience all in one simple toy.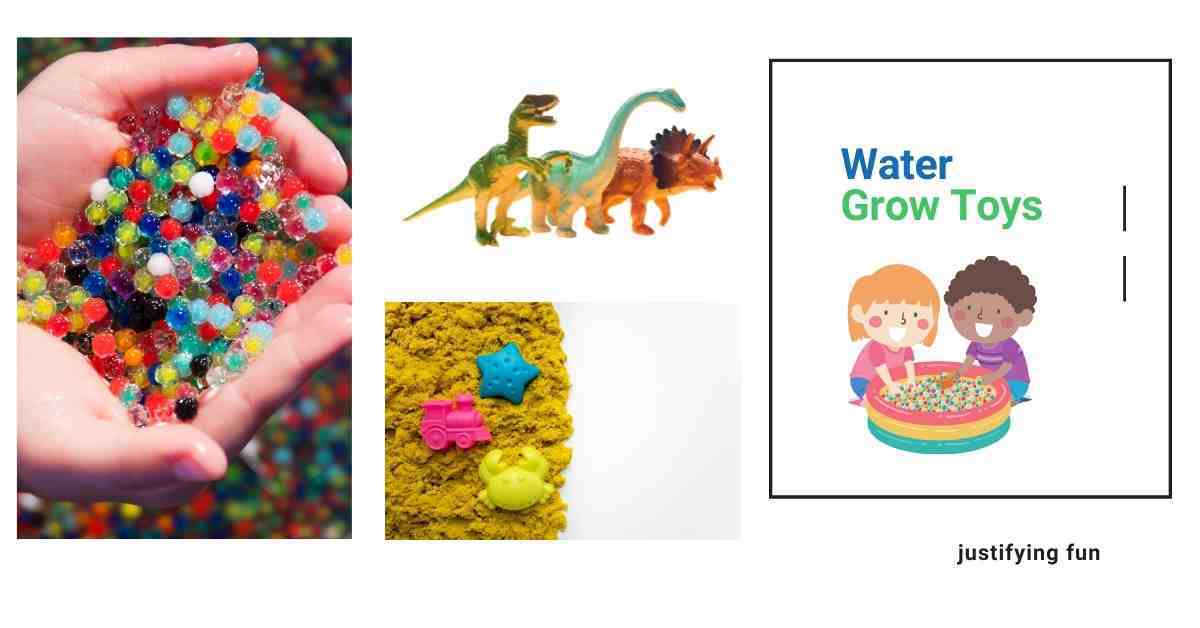 As a child I was once given a water grow toy in my Christmas stocking. It turned from a tiny object into a face cloth. This was awesome and I really enjoyed using that facecloth for many year. I also had a magic grow dinosaur but it only grew a little bit bigger and wasn't as impressive as some of the really big grow toys you can buy now. I guess magic grow toy technology has improved!.
In the table below you can see some of our favourite toys that expand in water, including grow animals and the biggest water grow toys we could find.
The enormous magic grow snake
Click the image above to view on Amazon
This colourful and realistic looking snake is a mad toy that the manufacturer claims can grow up to 6 times bigger when placed in water for a few days. When they say a few days it can take closer to a week if you want the snake to expand as big as possible. It really doesn't matter though, this is one really cool looking snake that expands to a massive size, often close to 48 inches long.
What I love about this snake is that it looks realistic. Be sure to keep watch as it grows otherwise if you see it a few days later you might be surprised to see a real looking snake in the house. I expected the snake to be foamy and flimsy but when it expands it's heavy and looks full and solid, like it's been secretly eating from your cupboards while you sleep.
Because this snake grows so big, you really need to use a baby bath size tub or bigger. It might fit into a measuring jug at first but it needs space to expand to its full size and a jug or regular bowl just won't be big enough. Keep it in the bath but you won't be able to bathe for several days unless you want to bathe beside an ever more realistic and big looking snake.
Kids love this grow snake, especially young children who are 3-4 years old and might see the snake grow taller / longer than them. But, it will then shrink back down to a small size again over time so don't expect a long-lasting toy that will grow and stay that size, the absorbed water will leave the snake and it'll slowly shrink.
Grow animals in water
Click the image to view on Amazon
This set of grow animals from Ja-ru is one of hundreds of magic grow animal sets you can buy online. Usually you'll find a box of cheap, low detail animals with fading colours. This set is one of the better options because the colours are clear and the sea creatures are shaped and designed to be quite realistic. More care has been taken to make sure each animal looks good and they are also individually packaged.
There is an Alligator, stingray, crab, turtle, octopus and starfish. Use cold water and these animals suddenly grow. Ok, maybe not as suddenly as you might think. It can take 2 or 3 days for them to expand to a much bigger size as they absorb water
Dinosaur Egg that hatches and grows in water
Click the image above to view on Amazon
These dinosaur eggs are another exciting way of making a sponge water grow toy even more exciting. If you don't expect a long lasting toy but instead want your children to have a new and magical experience these dinosaur eggs are a lot of fun. The eggs come in a number of different colour and it's not possible to know which species of dinosaur will appear out of the egg as it expands and grows in water. It can take up to 1 day for the dinosaur to break out of the egg, in a slow and exciting process.
Seeing children watch and check the egg through the day, waiting as it cracks and a dinosaur begins to appear is amazing. In reality it's a small toy and thankfully not a real life dinosaur! but the toy will often grow to more than 3 times the size it hatches at so it is quite big and not only a gimmick.
Orbeez – Water beads
Click image above to view on Amazon
Orbeez are a type of small, water-absorbing beads. They are often used in arts and crafts projects, as well as in kid's pools and play areas. orbeez can be bought in a variety of colors, and they often come with a small bag or container to store them in.
Orbeez can be used for a variety of things, such as:
-Making your own fake snow
-Making a water table
-Filling up a kiddie pool
– Making a slippery slide
-Making an ice rink
-Helping to water plants
Orbeez became even more popular when YouTube Mr beast but 100 million of them in his friends backyard. Not only is it fun to see the beads grow but the soft texture feels satisfying to touch and move between your fingers. For this reason they are also used as a sensory toy to help children relax, stimulate and improve their senses.
What are toys that grow in water called
There are a number of different names for toys that grow in water. Here are some common names for water grow toys: magic grow toy, water bead, water grow toy and magic grow capsules.
Many people are familiar with the toy known as a "Water Bead". These small, colorful beads grow in size and number when placed in water. They are often used in floral arrangements, but they can also make fun and interesting toys for children. Famous YouTube Mr beast used 100 million of these kind of expanding water beads, known as Orbeez to fill his friends back yard.
Are toys that grow in water toxic?
Toys that grow in water shouldn't use any toxic materials, but they can be dangerous if swallowed. It is important to keep small children away from these toys, and to make sure that any water that is left in the toy is emptied out before it is stored.
Final thoughts about toys that grow in water
Children find it amazing to see something grow without being touched by them or someone else. This magic growth sparks a Childs imagination and makes anything seem possible. They begin to think about the world around them in a new way. If this toy grows, what else grows? Will my other toys grow too, do real animals grow?
If you had to choose one magic grow toy I'd recommend either the Snake, because of how big it is or Orbeez because they feel so amazing to touch and can grow more than 100X their small size.