Backyard discovery are a popular play set and playhouse manufacturer who claim to be the number 1 wooden playhouse manufacturer in the US. You'll usually see this kind of Cedar Wood play set sold at your local garden centre for a very high price. What's different and exciting about brands like Backyard Discovery is that they create fun playgrounds and playhouses suitable for your backyard, that are available online and you can assemble yourself.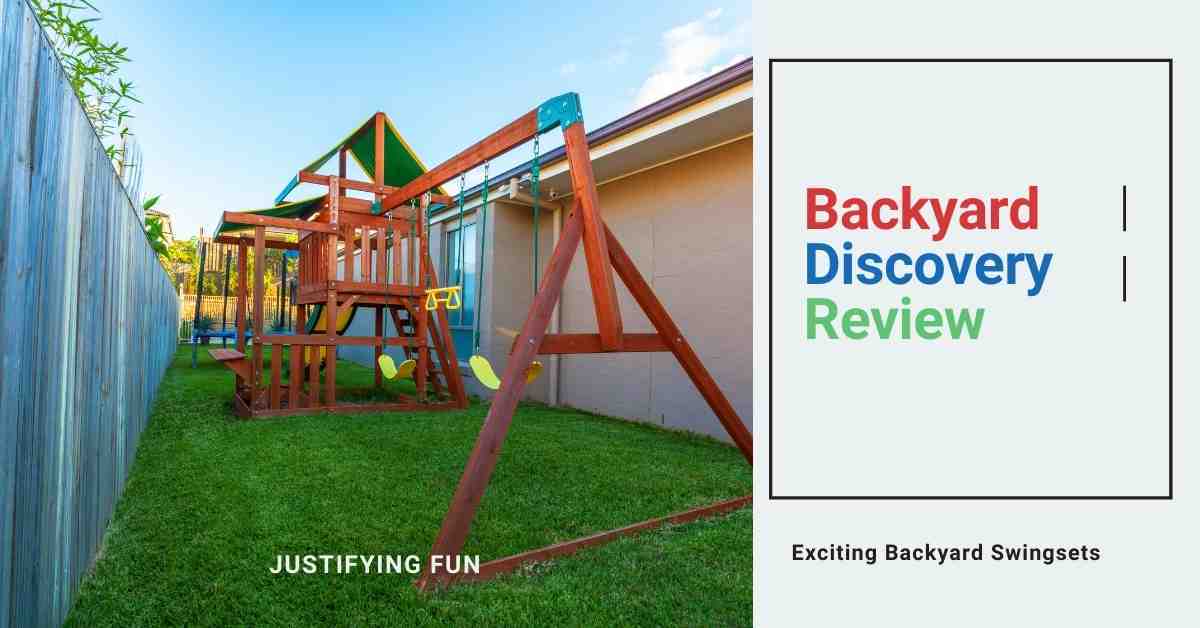 In this review we are going to take a look at some of the brands biggest and best backyard play sets and playhouses and consider customer reviews so you can see whether their low price is good value for money and if they'll keep your kids active and entertained for long enough so you can put your feet up, relax and enjoy seeing them laugh and play.
Backyard discovery Playsets – Are they as amazing as they look?
There are a lot of different play set models that backyard discovery sell, including the Skyfort, beach front and Woodridge II. You'll be amazed at how big and beautiful the cedar wood designs are. Beautiful in the sense that it's really great if you can find a wooden play set that blends in with your garden or surrounding trees, none of us want an eyesore in the yard.
The size of the larger models can be a little bit off putting too if you don't have much space and we need to talk about how long these playsets might last. We would say, think of the larger playgrounds as a long term investment. If your kids are still young, you'll potentially get many years of value out of this play equipment. If you are looking for a smaller or less serious commitment to play, then the playhouses below are a good choice or you can try some backyard monkey bars.
Backyard discovery skyfort
Click image to view price on Amazon
The Skyfort is an absolute monster of a playground that'll have your little monkeys climbing, swinging and begging you to let them play on it every second of every day. The Skyfort and Skyfort II are two of the most exciting backyard discovery creations. Priced at around $2000 these swing sets aren't cheap but they are two of the biggest cedar wood playsets in the range.
Usually when we see a picture of a playset, the size can be deceiving. That's not the case with the skyfort II which is a whopping 21ft wide, 16ft deep and a massive 12ft high. Both these models are similar, with a climbing wall leading up to a tree house tower and both have a three swing swingset and a slide.
The difference between the Skyfort and Skyfort II is that the Skyfort has 2 slides, an enclosed tube slide just like you might find at the fairground and a smaller wavy slide. The Skyfort II only has one slide but it's a longer wavy slide with bumps and it also has a set of monkey bars.
When choosing between these 2 models, you have to decide whether your kids prefer monkey bars or slides. Kids absolutely love slides and monkey bars so choosing between these models is a tough decision. Kids love to climb up onto the clubhouse and use it as a hideaway or the set for many exciting trips deep into the exciting imaginary worlds all our children create. I only wish I was young enough to join them. Actually, maybe you can because the monkey bars are high enough off the ground for an adult to swing on them too!
When deciding whether to buy this playset you need to consider that you'll most likely have to seal the wood every year to protect it and that it won't last for several years like the more expensive brands. However, Kids often get bored of "new toys" over time anyway so if you get a good year or 2 of use out of this playground then that's a great investment.
For a much lower price than other manufacturers you get a massive playground, lookout tower, three swings, monkey bars, slides, a bench and picnic area hideaway underneath the tower and a climbing wall. What more could your kids possibly want? and if you look after it well, it may last many years.
Beachfront cedar wood swingset
Click image to view product on Amazon
The beachfront swingset is a little bit more compact than the Skyfort and the design is a lot more open, with woden slats and open window sections at the top of the lookout tower. The sky fort is more of a hideaway and this is designed more for use in a location where you want to be able to look out and enjoy the view and warm weather, just like you would at the beach. Not only is the design very open but there is also a colourful fabric roof, just like you find on windbreakers or beach huts.
What I like most about the beachfront swingset is the beautiful layout, with blue and yellow coloured features throughout the design, making it look smart and contrasting the cedar wood colour nicely. What makes this swingset great for imaginative play is the snack window downstairs where children can pretend to serve food in the beachside cafe.
While two or three children play at the cafe, there is room for 3 children to swing together on the three swing attachments. One child can climb the climbing wall while another slides down the slide. The top deck is quite wide, leaving room for a few children to be on the lookout tower, or swinging across the monkey bars. So many children can play together that even if all your children have their friends round or you are hosting a small party, everyone can having fun at the same time.
Let's take a look at the assembly process for these 2 swingset models.
Assembling backyard discovery play sets using 3D technology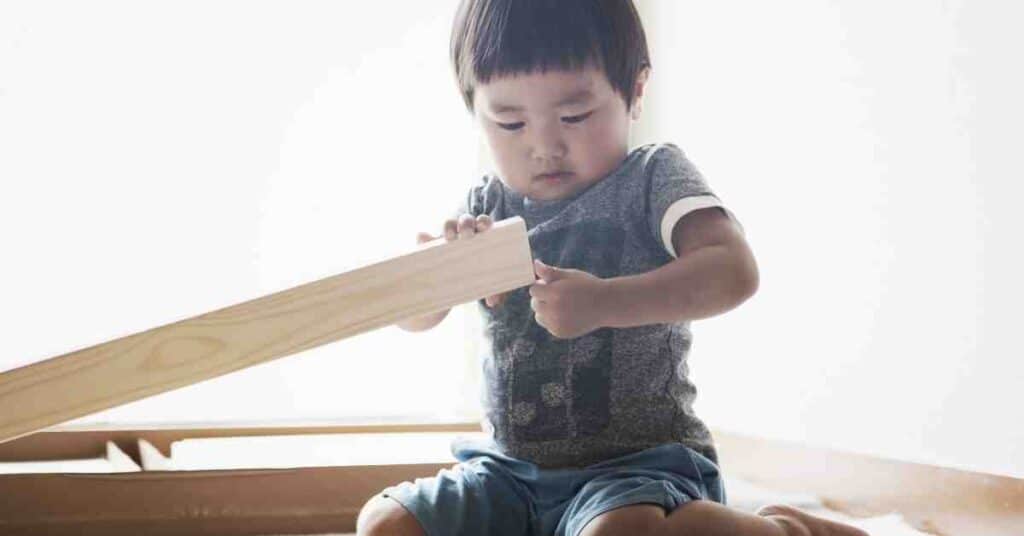 One of the biggest decisions you'll make when choosing to buy a playset is committing to assembling it. If you love DIY then you might be looking forward to it but if you struggle to follow a set of instructions then Backyard discovery have a solution for you that might just make it a little bit easier for you. When you buy a playset you can download an app called BILT. This innovative app, has an interactive set of instructions for building the playset step by step.
You can rotate the image, zoom in, view the structure from different angles and see how all the individual parts fit together much more clearer. I've struggled many times following unclear instructions and this 3d technology works really well and does make construction a little bit easier, at least by reducing the chance of you making mistakes or getting lost along the way.
Can these swingsets compete with more expensive brands
If you buy a play set as big as the Skyfort from a brand like Rainbow play systems or backyard adventure you'd be looking at paying twice or three times the price at least. The main difference between the Skyfort and more expensive brands is that usually the more expensive brands offer better wood treatment on their cedar wood, a longer lasting build quality, more permanent concrete supports, professional installation and after care maintenance packages.
One other difference between backyard discovery and other brands is that you have to assemble this swing set yourself. This might seem straightforward enough but this is a big kit with a lot of wood and screws. To make this task easier Backyard discovery give you a 3D mapping app that is a really innovative and easy way to put this structure together.
How to make the wood last longer
It's a really good idea to add your own wood treatment stain to the wood parts when you receive them, this way, they'll last even longer. The cedar wood is already treated but after a year and expose to the elements the wood stain that's been applied before you buy the product won't last as long as if you also apply your own better quality longer lasting stain.
Who are backyard discovery?
Backyard discovery are an outdoor play equipment brand that are best known for their playsets and playhouses. They have a number of competitiors in this market but they claim to be the number 1 brand. I've also written about some other playset brands which you might like to take a look at.
Backyard discovery vs Kidkraft
What do customers think about backyard discovery products
We read lots of customer reviews to get a feel for what people think about backyard discovery playsets and playhouses. The better business bureau has listed a few cases of customers unhappy with the products, mostly due to having received the wrong size parts and then having to wait a long time to receive replacement parts.
How long do backyard discovery playsets last?
This is the all important question. Customers seem to have varying views about how long these playset last and there is no concrete answer. The wood used to build the playsets has been treated and you shouldn't have any problems within the first year. After a year it's a good idea to apply some wood treatment to better protect the wood from the elements. The wood is hardwood but some users question whether it is as solid as playsets like Rainbow who install their playsets for you.
I agree that the cedar wood used in these products isn't as long lasting but that also comes down to those more expensive brands offering after care maintenance packages and they have likely treated their wood much better so it will last longer which is why they offer 10 year or lifetime guarantees on their playgrounds.
Are Backyard Discovery playsets made in America?
Backyard Discovery state that some of their products are made in America, but the majority are made in China and imported to the United States. This doesn't mean that the quality is likely to be any lower, because a lot of manufacturers import from China and the products still have to pass strict quality standard requirements.
Final thoughts – is a backyard Discovery playset a good investment ?
Whether a backyard discovery playset is a good investment for you really depends on how much money you are willing to spend, whether you are happy spending time constructing the playground and how long you'd like to be able to use it for.
Firstly, a backyard discovery playset is good value for money compared to more expensive brands who's similar size playgrounds are 2 or 3 times as expensive. These products are well designed and include all of the play accessories, swings, slides, monkey bars and climbing walls and imaginative play attachments your children could ever need.
The only downside of these backyard discovery play sets is that they aren't built to last a lifetime and you'll have to manage the aftercare, treating the wood and doing your best to keep them in a good condition and then you might be able to safely let your children play on them for more than a few years.