Backyard adventure playsets are large wooden playsets that can be constructed in your backyard. These wooden swing sets are built using heavy duty cedar wood and often have monkey bars, slides, a rock wall and a range of other fun kids play equipment options.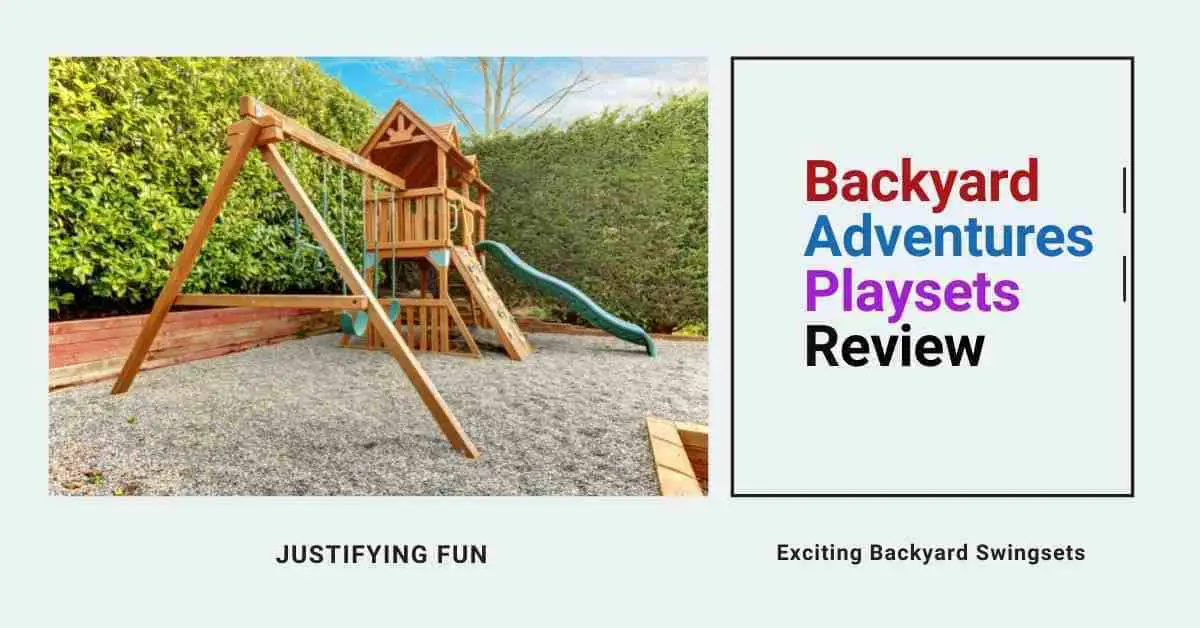 If you decide to buy a backyard adventures playset somebody will come to your home and install the swing set in your backyard and you will receive some kind of warranty. These play sets aren't temporary structures and you should see them as a long term investment for your kids to grow up playing on.
Let's take a look at who backyard adventures are and see which playset model you can buy from them. We also recently reviewed many other backyard playsets from bands like Gorilla, backyard discovery and kidkraft which you might also like to compare with backyard adventures swingset options.
Who are backyard adventures
Backyard adventures have written a story on their website about why they decided to make playsets. The story is great but it doesn't tell us a lot about the company and sounds to me like a marketing story because they talk about wanting to bring children back to simpler times when they could play in the backyard, exercise and use their imagination.
This is great but I feel like they could connect with their potential customers better.
Backyards adventures mention that they offer hundreds of different designs and accessories which is true, but in my opinions they don't offer the level of customisation and creativity that rainbow playsets offer or the unique and themed designs backyard discovery sell.
Backyard adventures swing set designs
Backyard adventure offer a number of different designs on their website. Let's take a look at them and what they offer.
Treehouse sets
The backyard adventures treehouse sets range in price from just over $2000 to almost $40,000. Yes, you heard me right, $40,000. At this price I'd think the playset is aimed more for a residential community or local park.
All of the designs in this range are made of beautiful red cedar wood and all of them have attachments that are the same dark green colour. The whole range is beautiful. The lowest price offering is a simple swingset with 3 swing attachments. As the price quickly doubles, you'll get a slide too and a small treehouse with climbing ladder.
You'll need to pay almost $10,000 for one of the more exciting treehouses that has monkey bars, slides, swings, climbing ladders and a big tree house structure for children to climb onto.
At the top of the backyard adventures treehouse set range is the $40k Treehouse combo playset. This playset is so impressive that it would be a great addition to any playground and the ultimate backyard playhouse. The treehouse combo playset has over 200 square ft of play area. There are no less than 5 different slides, 2 high decks, 4 wooden roofs, monkey bars, a fireman's pole and a lot more.
I love the spiral tubular slide that looks like a lot of fun for children to slide down.
Peak playset
The peak playset range is made up of a number of different high quality play sets. What I like most about this range is that most of the models come with a peak tent like roof with yellow green and blue colour choices.
The tree house peak combo swing set is the most expensive in this range and will cost you close to $28,000. It looks great, with the long wooden fenced bridge like platform, open spiral slide, lots of ladders to climb and a swing section.
Outlook
The outlook range playset is aimed at younger children, but that doesn't mean there is less equipment to play on. Whereas the peak and treehouse sets are suitable for adults and children to climb, swing and slide together, the outlook range is a good quality model with a 10 year warranty. What I like about the outlook range is that the footprint of the structures is much smaller so most design take up less space in your garden and the wooden outlook towers have been beautifully crafted.
Summit
The summit model is similar to the outlook model above and comes with the same 10 year warranty. The summit range has been well put together and has some beautiful curving slide designs and exciting tyre swings.
Where can I buy backyard adventure playsets ?
Backyard playsets are available to buy on the backyard adventure website and at almost 100 dealer locations across the united states. If you want to buy a backyard adventures playset your best option is to go and see a dealer. They should have a playset there for your children to try out and they'll be able to talk you through all the different models, options and the lifetime warranty.
Final thoughts – Do backyard adventures sell the best outdoor playsets?
In my opinion backyard adventures do offer one of the best and highest quality play set models you can buy. However, even though I would highly recommend them, when taking into account other brands, they aren't my overall favourite. I prefer Rainbow playsets or Backyard discovery for the following reasons.
If price isn't a concern for you and you want the ultimate playset then I recommend rainbow playsets.
The reason why I like Rainbow playsets is that, even though they are similarly very expensive, they offer more colouful swing sets with so many different options, sizes and innovative accessories available.
If you are on a budget, you can buy backyard discovery play sets online at a much lower price and they still have some exciting and very well themed designs that kids love.
Overall a backyard adventures playset is still a great investment if you like their simple, solid and beautiful cedar wood designs. The prices are high but you receive a warranty, installation, maintenance packages and the potential to expand the playset later when new features are released or your children grow up and need a more challenging piece of adventure equipment.
These redwood playsets have a lot of exciting features, including allsorts of different slides and swing designs. Their tubular twisting spiral slide is one of my favourites but they also have a wavy slide in the summit range which looks like it'll be a lot of fun and give you kids a little bit of airtime over the bumps.
Choosing between this brand and other high quality wood playsets comes down to which offer the design, attachments and price that you are happy with. Prices for these playsets isn't cheap and the lifetime warranty included with many of the design shows that they are a long term play investment and fun for all the family, whatever age you are.
Service and installation is also included so you don't have to spend hours following a set of instructions or test your DIY skills.
Other backyard play set reviews and comparisons